Press Releases
Back
Red Sea Global Achieves Commercial Close on SAR 1.6 billion Al Mutlaq Group Joint Venture Debt Financing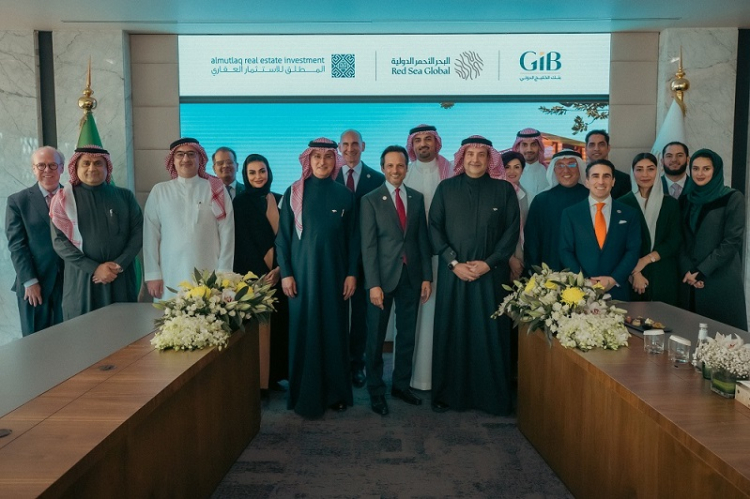 Red Sea Global (RSG), the multi-project developer behind the world's most ambitious regenerative tourism destinations, The Red Sea and Amaala, has achieved commercial close on a financing agreement to support its Joint Venture (JV) with Almutlaq Real Estate Investment Co. (AREIC), a subsidiary of the Al Mutlaq Group (AMG).

The SAR 1.081 billion (USD 288 million) green financing was provided by Gulf International Bank -Saudi Arabia (GIB).
"Achieving commercial close for our debt financing so swiftly after signing our Joint Venture with AREIC demonstrates private sector confidence in the long-term success of our destinations and appetite in the Kingdom's Vision 2030. Our projects present promising business opportunities to many, with the ability to leverage key strategic assets and drive economic growth and diversification as outlined by Vision 2030," said John Pagano, Group CEO of Red Sea Global.
The initial joint venture with AREIC was signed in July 2022 and valued at SAR 1.6 billion, for the development of Jumeirah The Red Sea. The resort is a 159-key luxury property situated on The Red Sea destination's hub island, Shura. Shura Island forms part of the first phase of development, and will comprise 11 luxury, premium and lifestyle hotels and resorts, residential units, a championship golf course, 118 berth marina, and a comprehensive retail, dining, and entertainment offering.
Tariq Almutlaq, Chairman of AREIC, said: "We're delighted to achieve commercial close on our joint venture so soon after signing the agreement and it is testament to Red Sea Global's best-in-class management team that it has been able to happen. Already progress is being made at pace to bring the destination to life and we are excited to continue helping Red Sea Global achieve its vision."
Abdulaziz Al-Helaissi, Group CEO of GIB, said: "Red Sea Global has made an ambitious commitment to being conservation-positive, supported by its partnership with King Abdullah University of Science and Technology. GIB is proud to enable this activity through the provision of green finance, and we look forward to seeing the positive impacts generated on sustainable development goals."
GIB is the fifth Saudi bank to support RSG in the debt capital markets, following Banque Saudi Fransi, Riyad Bank, Saudi British Bank and Saudi National Bank's involvement with RSG's green loan closed in 2022. Red Sea Global achieved financial close on the first-ever Riyal denominated Green Financing with its SAR 14.120 billion (USD 3.76 billion) facility.
"Our latest Financial Close marks another milestone for our project delivery team as we build on our strong reputation and attract more outside investment. It's clear the investment community is enticed by our flagship projects and Vision 2030 and we expect more interest from those focused on ESG who recognize our full potential," added Pagano.
The Red Sea is on track to welcome first guests in 2023 when the initial hotels will open. Upon full completion in 2030, The Red Sea will comprise 50 resorts, offering up to 8,000 hotel rooms and more than 1,000 residential properties across 22 islands and six inland sites. The destination will also include an international airport, luxury marinas, golf courses, entertainment, and leisure facilities.