Press Releases
Back
GIB donates a bus to the Bahrain Down Syndrome Society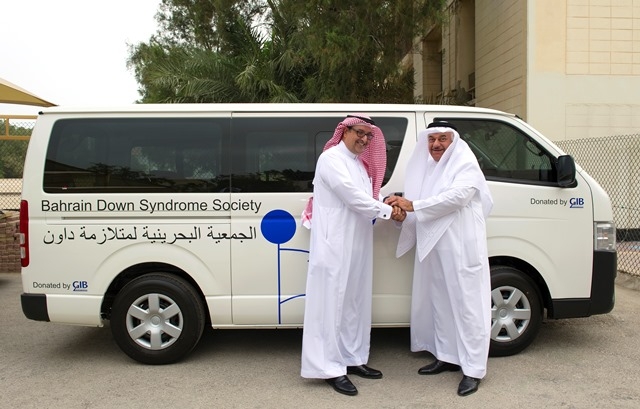 GIB CEO Mr. Abdulaziz Al-Helaissi presented the bus to the Society Chairman Mr. Jehad Al Zain in a ceremony held at the society's premises. The vehicle will be used to transport the children from their homes to the centre and back.

Mr. Al Zain commented on the donation: "BDSS is delighted and grateful for the generosity of GIB and their ongoing backing of the centre. As a non-profit organisation the support from local institutions is vital for our continued operations."

BDSS and its Down Syndrome Care Centre provide direct and indirect support to individuals, their parents and their families. It also works towards the development of local services available to individuals in the fields of health, psychology, education and social skills. Additionally, the society operates an information centre supporting research and studies of issues related to the syndrome. The society finds ways to overcome obstacles in the education, rehabilitation and employment of youth with Down Syndrome.

Mr. Al-Helaissi commented: "We are proud of our partnership with the Society. Their work is pivotal in assisting the children and their families by promoting public awareness of the condition in the local community."

Following the presentation, 15 employees from GIB spent time at the centre painting with the children. The original artworks will be exhibited at GIB headquarters later in the year and auctioned to the employees of GIB, with the proceeds donated to the society.

Launched last year, GIB's Corporate Social Responsibility (CSR) Programme 'WAGIB' is committed to supporting local communities in which it operates with a range of sustainable development programmes and local initiatives. 'WAGIB' emphasises themes with long-term positive results in the fields of youth and career development, women's empowerment and health awareness.

GIB is owned by the six Gulf Cooperation Council countries, with Saudi Arabia's Public Investment Fund being the major shareholder.

Gulf International Bank (GIB) is a pan-GCC universal bank that specializes in corporate and investment banking and has a growing retail franchise. In addition to its main subsidiaries, London-based Gulf International Bank (UK) Ltd., and Riyadh-based GIB Capital LLC, it has branches in London, New York, Abu Dhabi, Dhahran, Riyadh and Jeddah with representative offices in Dubai and Beirut.

Celebrating their 40th anniversary this year, a number of initiatives are planned across the region to commemorate the event.