Press Releases
Back
More than 100 people participate in GIB's World Earth Day 2018 tree planting event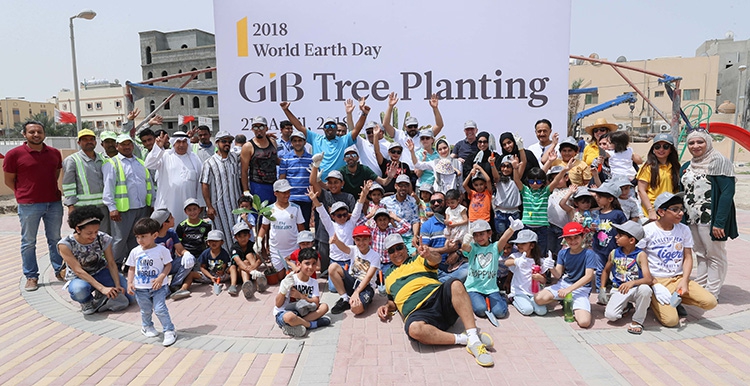 More than 100 people - employees of the bank and general public -participated in GIB's third tree planting initiative commemorating the World Earth Day on Saturday 21 April. Families with children and environmental enthusiasts planted about 300 trees, shrubs and flowers to enhance the existing shrubbery at the Ibn Al-Nafees Garden in Sitra.
GIB organised the planting activity with the support of the Capital Municipality and Gulf City Cleaning. The event was registered by GIB on the global campaign site via www.earthday.org to mark its participation in the annual global campaign.
The initiative is in line with the bank's Corporate Social Responsibility (CSR) programme WAGIB. WAGIB is committed to supporting local communities in which GIB operates with a range of sustainable development programmes and local initiatives. WAGIB emphasises themes with long-term positive results in the fields of youth and career development, women's empowerment, economic development, health awareness and the environment.
The World Earth Day began in 1970 as a movement to give voice to an emerging consciousness and channelling human energy toward environmental issues. It is noted around the globe with environmentally conscious activities. The organisation has an ambitious target of planting 7.8 billion trees globally by 2020.
GIB is owned by the governments of the six Gulf Cooperation Council countries, with Saudi Arabia's Public Investment Fund being the primary shareholder.
GIB, the Gulf's international bank, helps its clients thrive by working together to realise ambitions. GIB aims to be the preferred financial services partner, delivering bespoke banking solutions to a wide customer base in the region and beyond. This includes corporate banking, asset management, debt and equity capital market services, financial advisory services, mergers and acquisitions, and the world's first Shariah compliant digital retail banking service, meem by GIB.