Press Releases
Back
Gulf International Bank B.S.C. and GIB Capital Win Five Honours from the EMEA Finance Middle East Banking Awards 2022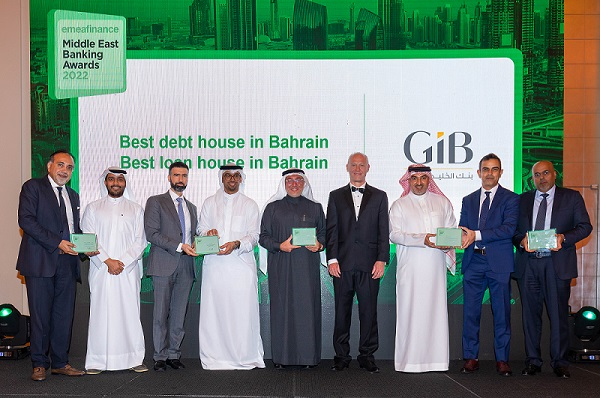 Manama – 22 March 2023: Gulf International Bank B.S.C. (GIB) and its Riyadh-based regional investment banking and asset management arm, GIB Capital, announced that they were collectively shortlisted for five awards by EMEA Finance. The awards were presented during the 15th Annual EMEA Finance Middle East Banking Awards 2022, held in March 2023. The EMEA Finance Awards recognise the achievements of the best banks, asset managers and brokers in countries across the MENA region.

Reflecting continued market leadership in corporate and investment banking, GIB was named: Best Loan House – Bahrain, Best Loan House – Oman, and Best Foreign Investment Bank - Oman. GIB Capital was awarded as Best Local Investment Bank - Bahrain and Best Debt House - Bahrain.

During the 12-month judging period, the GIB Group continued to execute landmark transactions across all of its core markets (Saudi Arabia, Bahrain, Oman and the UAE). These included several investment banking transactions (M&A's and IPO's), bonds and sukuks, and conventional and Islamic loans several of which were sustainability linked. The GIB Group has been recognised in the last 12 months by several leading publications and associations for its outstanding work. The GIB Group aims to continue executing landmark transactions in its core markets ensuring the needs of its key clients are met.

Commenting on the honours, Jamal Al Kishi, GIB CEO, said, "We're grateful for the recognition conferred by these high-profile industry awards. GIB will always strive to lead the way in terms of delivering innovative, value-accretive solutions to our clients across the region. Our aspirations are ambitious as we move forward with determination to fulfill our transformative strategic plans."

Osamah Al Shaker, CEO of GIB Capital, added, "We're delighted with ongoing recognition from the industry and awards such as these of GIB's capabilities, through GIB Capital, to offer a comprehensive and world class range of investment banking products and services designed to provide innovative and customized financial and investment solutions for our clients. With the rapid development of public and private equity and debt markets in the region, we are extremely pleased with the important role we are playing in helping our clients and the regional economies maximise their growth and realise their vast potential."